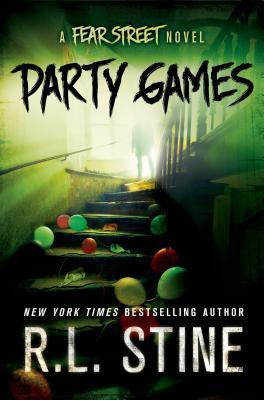 On September 30, my first pre-ordered book ever made its way to me from Barnes and Noble–Party Games by R.L. Stine. I anticipated this book because of the indelible mark the Fear Street series left on me as a young reader. Stine wrote the series from 1989 to 2005 (and is reviving it now). It is one of the best-selling YA series of all time. Long before the YA boom of the 2000s, Stine supported young readers in a high-interest genre that paved the way for them to build adult reading lives. Party Games is about a girl named Rachel who gets invited to an all-night party on Fear Island that goes from hijinks to hysteria.
I still remember the first Stine book that I got at Target. This was back in the day when the nearest mall was downtown, and my mom refused to drive through that much traffic. (The population at the time was about 60,000, so the term "traffic" is used very loosely.) As I browsed for a new book to buy with my birthday money, I happened upon First Evil, the start of the Cheerleader Fear Street series. I was drawn in by a female protagonist in a situation that required her to be smart, aggressive, and cunning. I wanted to watch a kid (albeit a big kid) with all the demands of school, parents, and activities do something important, like saving lives. I wanted learn how to respond to fear. If Corky could handle evil supreme, then I could handle evil minor. Guess what? I grew up to be woman that is smart, aggressive, and cunning. I work with teenagers, and my mind is always on how I can enrich their lives with literacy and empathy. I have faced many "regular" fears that destroy people. I haven't had perfect execution, but what I found in Stine's work over and over again helped me rehearse my grown-up identity. In addition, I began writing horror in 7th grade.
At first, I was nervous about reading Stine for the first time as an adult. Would it hold the same magic? Would the same emotions be evoked? Or would it be yellowed and faded, like when you take an artifact out of your box of memories from all those years ago? It wasn't quite the same, but it did trigger some of the same emotions, the way a fragrance can remind you of your grandma's house. This time, I focused on Stine as a writer, and I appreciated the following:
How straightforward he is with details. Sure, I might want to be more subtle for adult readers, but I could picture and understand the entire cast, no matter their role, without it feeling like character soup.
The swirl of potential antagonists. Here, I'm usually too straightforward. It was nice to be reminded that the antagonist is fear, and the character portraying that antagonist can and should shift throughout the story.
Unapologetic thrills and chills. The entire book has little bits of suspense–even if they don't serve the big thrill. They built the mood, and R.L. Stine knows that readers who pick up his work want to be scared. I've spent too much time trying to earn the right to scare my readers. If they didn't like it, they wouldn't be reading horror.
A good protagonist balances who we are with who we want to be. Just like Corky all those years ago, Rachel in Party Games struggles. Before Rachel even gets to Fear Island, she has problems–strained relationships with her family and boyfriend. When the killer begins attacking, she's afraid. In these ways, she's like anyone, but then she pushes through to survive–something even today I need encouragement to do, because life is hard. Stine acknowledges that in Rachel's struggles, but responds with Rachel's hope.
Have you read Party Games yet? How has R.L. Stine impacted you? What's your favorite book?